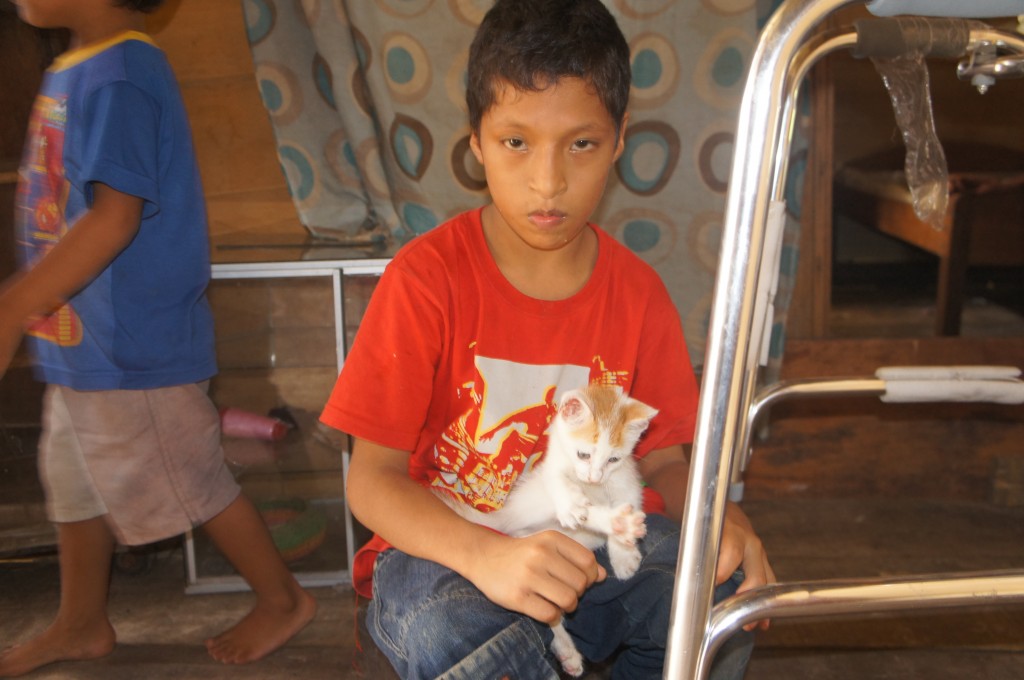 When love goes beyond every barrier and Distance!!!
The small Moises well as having many barriers because of his disability also has a large barrier: "the extreme POVERTY' ", here in the Third World is common to many non-disabled children imagine that the great problems of life has him living in extreme poverty!!!!
But thanks to Moret Pascaline, Moises continues her therapy with an important accessory!!!
The heart of this fantastic woman is so great that even gives him clothes and things for his life!!!
Moises is a baby 12 Years disabled (with mobility problems and mental retardation) who lives in the Amazon in the poor suburb of the city of Iquitos.
Moises has 2 brothers, one larger and one smaller and one sister almost a year. Family Moises lives in extreme poverty in a wooden stilt house built with great sacrifice and without furniture or accessories.
Thanks to Video Pro y Contra, being promoted by us on Youtube (video: HTTP://www.youtube.com / watch?v = F2te-4_OxKk ) and on Facebook, Moises has found a Madrina3 years ago by a French lady, Pascaline Moret that from 2 years has helped me many times with our project "Give a Smile" (project that helps children with disabilities or suffering from diseases, families living in particularly poor. Will be able to attend for a full school year a "special school" and have the provision of school supplies and some therapies).
Moises more than a year no longer lived in Iquitos and after more than a year he returned to live here and at school we have reported the big problem that her walker to walk is broken and the family did not have the money to buy it as is see from the video: HTTP://www.youtube.com / watch?v = 01PVduGDQLw&feature = c4-overview&list = UUil34rLE8pstm7qd8F02RFg
Promptly Godmother Pascaline Moret, Moises has not only helped to buy the walker here called "Andador" but also has the mandate to buy him clothes and other, who promptly bought with Moises choosing the mother and the new director of the "School SPACIALE".
Thanks to this very important accessories for the rehabilitation of Moises he will continue his therapy and hopefully in the future will also walk!!!
We thank Pascaline Moret and all those who support this project and other projects ...
To support the project "Give a Smile" contact us ...
https://www.facebook.com/media/set/?set = a.10152120229526294.1073741848.175391111293&type = 3&uploaded = 15